Paddleboard Central Florida's Largest Chain of Lakes
Annette Kitterman
2021-11-11
This is one of the best choices I've made for my health, mental and physical. At 58 I find myself with a good year under my belt.Thanks to Kami I was able to purchase my board, paddle and everything needed with her guidance. Her love and passion for the sport is contagious. She hosts many events throughout the year. I was just out on Lake Summit and into Eloise yesterday November 10th on a 4 mile paddle. This is a beautiful time of year to get out in the morning. Check out her events page. Sunset paddles and bonfires are happening now.
This is the absolute best paddle boarding experience. Kami is a wonderful teacher and really patient. Love love love.
This has become my absolute favorite thing to do. I came to paddle board junky aka Kami with no experience. She helped me learn all the ins and outs of paddle-boarding. She also taught my four young sons how to paddle as well, ages 12,10,8 and 6. This is now something fun we can do as a family in nature and get an amazing workout. I now paddle at least 3x a week and love every minute. Thanks Kami!!
Stephanie Clevenger
2021-07-11
Kami is a great instructor and guide before you even get out on the water. I always enjoy paddleboarding with her.
We've been wanting to try paddle boarding for a long time and I'm glad we took the Paddle Like a Pro tour. The instructor/owner was so patient and gave us perfect instructions. The group with us was also so pleasant and fun. The prices were ridiculously reasonable! We'll definitely be back.
Katelyn "Katelyn Marie" Benson
2021-06-08
Kami is patient and is very helpful learning how to get the best out of your day on the board. She made if fun and informative. She made it easy for you to have confidence on standing and balancing on the board. Will continue to go ever chance I get! She even help me buy the right board for my body type.
Took Paddleboard lessons for the first time. I really enjoyed it! Very patient and knowledgeable instructor. I look forward to booking another tour.
Exceptional experience with our first time paddle boarding. Kami was a outstanding instructor. Her clear directions and guidance began before we even go into the water, helping us size our paddles and teaching us proper technique. Kami was very patient with my son who was a little slow to get comfortable on the board. She also allowed our small group to go at our own pace so we all had a great time. I highly recommend Kami and Paddleboard Winter Haven for a fun adventure on the beautiful chain of lakes in Winter Haven.
Christy Acosta
2020-05-02
Today was my first day EVER on a Paddleboard and it was amazing! The instructor was so good! She took her time with me and helped me feel so comfortable
KARLA AND BRENT BENOIST
2020-04-11
We rented two paddleboards and got a lesson with Kami today at Lake Roy in Winter Haven. We had a great time. It was my first time on a paddle board and Kami was a great instructor. She is very encouraging and easy going. We plan to join in some of the group tours that she does. Highly recommend!

Whether novice or expert, there are numerous paddle boarding opportunities in Polk County. This leisure activity is a great way to exercise and see the beautiful Winter Haven Chain of Lakes.
The Winter Haven Chain of Lakes is full of great history and amazing nature life. There is no better place for your Paddle boarding adventure!
Let our certified instructors get you out on the water and pass along some great tips and tricks for paddle boarders of all levels. We love our beginners but also do advanced workouts and training.
We offer a variety of experiences such as beginner tours, private paddle board parties, corporate "board" meetings, Yoga on the water, and Paddlefit workouts.
---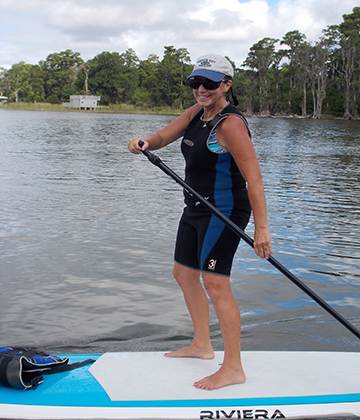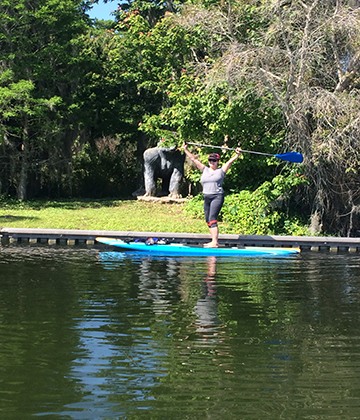 Winter Haven Paddleboard Blog